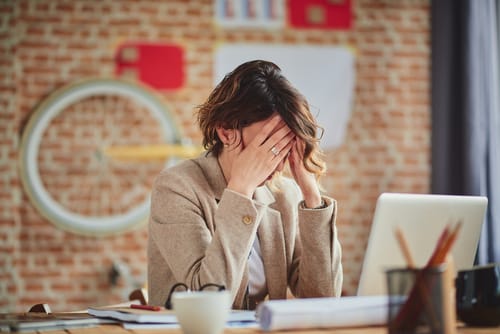 Why Do Headaches Co-Occur with Substance Abuse?
For people in recovery, there is a high likelihood they have encountered headaches as a side effect to substance abuse or as an effect of withdrawal. Different types of substances can produce different types of headaches. Learn more about the types of headaches and how to find relief.
Alcohol Abuse
Drinking too much can trigger a migraine-type headache for some people. People in recovery may recall these headaches or may not remember but they can result in splitting head pain after drinking too much. Studies have found alcohol use leads to an increase in headache severity or frequency. These tension-type headaches can be difficult to manage but are mostly attributed to taking in too much alcohol, being dehydrated, and the body's overall response to alcohol in the system.
Drug Abuse
Alcohol is not the only way a person gets headaches with addiction. Abusing over-the-counter prescription medication is also associated with the onset of headaches. Up to 50 percent of medication-overuse headaches are caused by abusing conventional medications recommended to treat pain.
Smoking
Some people may not realize this, but regular smoking can lead to headaches, namely during nicotine withdrawal. Using Chantix, a drug used for nicotine-replacement therapy, may also cause headaches as a side effect.
Illicit Drugs
Drugs such as cocaine, marijuana, and amphetamines can be contributing factors to headaches. Cluster headaches (a quick succession and debilitating headaches) found nearly 72 percent of people who experience them used drugs prior to the onset of the headaches.
Therapeutic Support
The good news is that some headaches may be treated with over-the-counter medications, including Advil or Aleve. Look into meditation or acupuncture if these medications are not enough. There is also treatment for more severe headaches, including a nerve block, which involves numbing the area with local anesthetic or corticosteroids as well as diagnostic imaging. Abstinence and seeking help for recovery from drugs and alcohol is really the best (and only) way to help headaches caused by being addicted to drugs or alcohol.

For more than 25 years, Palmetto Addiction Recovery Center has been devoted to helping those who are struggling, to find serenity and recover. With a focus on holistic treatment for the physical, emotional, and spiritual, our program effectively rebuilds and heals what has been broken by addiction. For information on our addiction treatment program in Louisiana, call us today: 866-848-3001