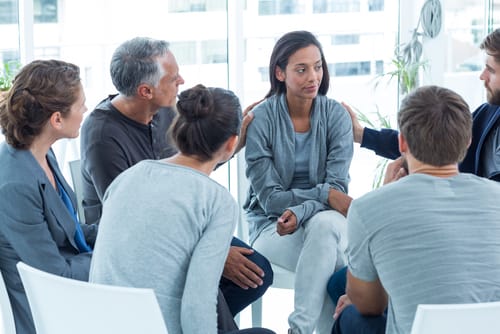 The challenges of substance abuse treatment are myriad but there are many options available to people who are interested in seeking help for addiction. A good treatment program for substance abuse will be holistic, comprehensive, and focused on the individual's needs. Successful rehab for people with alcoholism may require dual diagnosis treatment while other addictions may require different elements. Learn more about what is available and how to choose the right program.
Types of Rehab Programs
A good program that supports rehabilitation for substance abuse includes those that help a person reintegrate into society post rehab and provides good aftercare support. Some common rehab programs include:
Residential rehab: typically designed for those in which the person is housed with the treatment facility throughout the program. This is voluntary but participation is often court-mandated. Some are locked-door programs, others may forbid return if a person opts to leave. Intensive programs are usually 28 days, while others may last longer.

Sober living: aftercare option for people who have completed rehab. While people are residents, they are allowed freedom in sober living and may go to work or school and participate in recreational activities.

Outpatient: type of rehab in which people live in their home and attend to the daily routine of life including work, school, and family. The person may attend daily, weekly or on whatever schedule is necessary for their treatment.

Community-based programs: typically set within the community, AA is a good example of this type of program. Many community-based programs are based on the 12-steps.
Approach to Treatment
No single treatment is going to work for everyone. There is a variety of approaches for people seeking treatment. Professionals are often as varied as anybody and provide different approaches depending on the treatment center and philosophies. Often there is a balance between approaches and seeking the best way to treat the individual person so they can heal. These might include:
Behavioral modification: controlling behavior so that the person has a highly structured, rigid, routine

Pharmaceuticals: used as a complementary treatment in rehab to support relief of symptoms for co-existing condition

Cognitive therapies:  focus on conscious mental processes while seeking to eliminate unhealthy or nonproductive thoughts and incorporating strategies for daily life

Holistic treatment: involves rehab programs that focus on the whole person. This approach acknowledges and attempts to treat other conditions as well. The rehab treatment plan for people in recovery includes dental treatment if needed and incorporates healthy lifestyle modalities including yoga, meditation, art therapy, or outdoor activities
Success in rehab will look different for people depending on their situation and history of drug and alcohol addiction. Sometimes the person is not quite ready to succeed and needs to make a commitment to treatment. A person who is highly motivated to succeed will find a way to do this with support. Interventions are usually done with long-term success in mind by taking the little steps here and now to create a pathway towards recovery that lasts.
The Palmetto Center is based on a Therapeutic Community model. We help people learn how to live free of addiction. We help you take those steps you need to move forward in recovery for the long haul. Our community support provides structure while trained counselors offer life skills training and therapeutic techniques to help you move past addiction. Our program provides special focus for professionals including chiropractors, nurses, doctors, lawyers, and more who need help with addiction recovery. Call us to find out more: 866-848-3001.