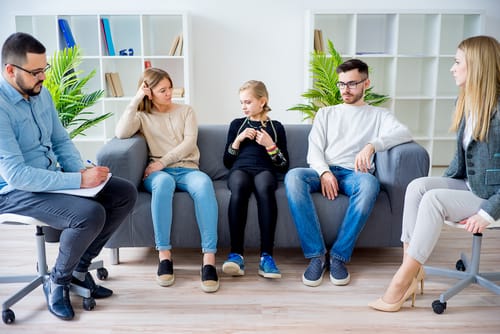 The modern family defies definition in terms of who is the parent (or parents), how siblings are brought into a family, and how they operate together as a unit. Family therapy can help bridge all these various dynamics through supporting individuals in rehab. Behavioral health treatment that includes family therapy works better than treatment that does not. It helps reduce rates of relapse, improve medication adherence, and relieve stress.
Family Disease
Addiction is a family disease because it impacts the entire family system. Addiction puts members of the family under stress, disrupting routines, and causing unsettling experiences. Family members develop unhealthy coping strategies as they strive to maintain peace in the house. The family unit is fragile and dysfunctional. Children in the household are also impacted by addiction. Substance abuse in the home interrupts a child's normal development and leads to higher risk for health problems. Children of people with addiction often have difficulties in school and are more likely than peers to have a learning disability, skip school or be expelled.
Benefits of Family Therapy
There is a lot of research which demonstrates the positive impact the family can have on a loved one's recovery from addiction. The many benefits of family involvement in recovery include:
Keeping a loved one engaged and motivated during treatment

Learning about addiction and impact on the family

Enabling family members to voice feelings and concerns

Offering a loved one a high level of support

Easing feelings of fear, anger, stress, and confusion related to addiction

Addressing any mental health issues in the family system, including depression or anxiety
Improvements in family communication skills

The opportunity to address any mental health issues within the family system, such as depression or anxiety, which can hamper family communication and contribute to relapse
Getting involved in a loved one's recovery improves the chances of long-term success while improving household function and family members' own mental health.
What to Expect
Family therapy has shown positive results for substance use problems and coexisting disorders such as depression, unemployment, and other types of family conflict. Here is what to expect:
Family involvement: it may be a few weeks or a few months into treatment. It usually involves the client in substance abuse treatment and at least one other family member being present.

Life skills: during therapy, the counselor will assist family members as they acquire new skills and learn how to apply them. Counselors teach them how to communicate more effectively and behave in ways that support the client's recovery.

Behavioral changes: contingency management is used in family therapy to assist the client as they develop goals that encourage abstinence from all substance use.

Goal-setting: family members are asked to set goals related to roles they play in the family and review the goals each session which provide rewards when achieved
Overall, family therapy is essential for people in recovery who are struggling to kick addiction to the curb. Families are intricately woven groups of people who need support for a long time and family is the closest to a person in terms of how they support them through tough times.
The Palmetto Center is based on a Therapeutic Community model. We help people learn how to live free of addiction. Our community support provides structure while trained counselors offer life skills training and therapeutic techniques to help you move past addiction. Our program provides special focus for professionals including chiropractors, nurses, doctors, lawyers, and more who need help with addiction recovery. Call us to find out more: 866-848-3001.