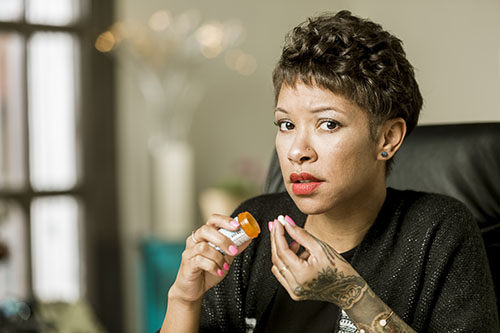 A telling article published by the New York Times gives an insightful look into the lives of people just like you who are hiding the terrible secret of drug addiction.
Everywhere you look people are talking about the opioid epidemic.
According to the Centers for Disease Control and Prevention more than 52,000 Americans died of drug overdoses in 2015. That is an average of one death every ten minutes. Approximately 33,000 of those fatal overdoses, nearly two-thirds, were from opioids, and, that includes prescription painkillers and heroin.
In 2016 drug overdose deaths exceeded 59,000. That was the largest annual jump to ever be recorded in the United States, according to preliminary data compiled by The New York Times. Although the data is preliminary, the Times's estimate deaths rose 19 percent over the 52,000 that were recorded in 2015 and, all evidence suggests the problem has continued to get worse in 2017 despite efforts by the DEA to slow the flow of opioids.
Death From Opioids
The recorded death count is only the latest consequence of the continually escalating public health crisis of opioid addiction which has now been made even more deadly by the influx of illicitly manufactured fentanyl and other similar drugs. Drug overdoses are now the leading cause of death among Americans under the age of 50.
The absolute death rate from opioids is greater in cities like Chicago and Baltimore, however, the devastation is mostly concentrated in rural America in places like Appalachia, New England and the Midwest and, many of those addicted are from white middle-class suburbia and small rural towns throughout America.
The opioid epidemic began with the explosive growth of prescription painkillers that happened primarily between 1991 and 2011. During that time the number of opioid prescriptions, selling under a variety of names such as Vicodin, Oxycodone, and Percocet, that were supplied by American retail pharmacies increased from 76 million to an astounding 219 million. As the number of pain pills being prescribed by doctors increased, so did their potency. In 2002, studies show, that one in six users were prescribed an opiate drug more powerful than morphine and, by 2012, it was one in three.
Cracking Down on Opioid Abuse
We were well into the epidemic before anyone realized it, however, once it came to light many states began cracking down on prescription opioid abuse. They created drug-monitoring programs and started arresting unscrupulous doctors. As the crisis continued, pharmaceutical companies began reformulating their drugs to make them less prone to abuse. Unfortunately, as the supply of opioids dropped, many addicts turned to heroin, which is cheap and plentiful. According to the CDC, in 2014 more Americans had treatment for heroin than for any other drug. In 2015, as total opioid deaths grew by 15%, heroin deaths increased by 23%.
Overdoses From Opiates
To try to stem the tide of these deadly overdoses, states have begun to rely increasingly on naloxone. Naloxone is a drug that can reverse heroin's effect on the brain and can jump-start breathing in an addict who has overdosed. Naloxone was approved by the Food and Drug Administration in 1971 and has been used by doctors and EMTs for decades. In recent years, states struggling with a surge in overdose deaths have passed laws that makes Naloxone available to police officers, firefighters and friends and family of known addicts.  A recent working paper suggests that such laws — which are now on the books in 45 states and in Washington, DC—reduce opioid-related deaths by 9-11%.
However this is still not enough. Recently released data show that the opioid epidemic is worsening and, is being largely driven by the rise of fentanyl, a synthetic opioid painkiller 50-100 times more powerful than morphine. In 2016 fatal overdoses increased by 26% in Connecticut, 35% in Delaware, and 39% in Maine. During the first three quarters of 2016, deadly overdoses in Maryland jumped by a whopping 62%, prompting the state's governor to declare an official state of emergency. Donald Trump's recent promise to end the scourge of opioid abuse in America is looking more and more challenging.
How to Support Someone in Recovery
If you know someone who is addicted or perhaps it is you yourself, it can be very helpful to learn about the addiction recovery process so you know what to expect when someone enters treatment. For example, you may be asked to participate in family therapy sessions as part of an inpatient or outpatient program.
Family therapy is meant to help identify any unhealthy patterns in the family that could be contributing to the continued addiction and to help improve communication between the person addicted and family who want to help. Family therapy can be helpful in undoing enabling behaviors and replacing them with healthy and supportive behaviors.
Relapse Programs
Most programs whether inpatient or outpatient have some kind of relapse treatment, which is an ongoing treatment that follows the completion of the initial program. Some examples of an aftercare program might include:
Sober living homes
12-step programs
Therapy and counseling
Outpatient treatment
Recovering From Relapse
Aftercare programs are essential in helping to decrease the risk of relapse. Relapse is a common part of the recovery process and it is important to discuss the relapse with a therapist or sponsor and decide whether there is a need to re-enter treatment.
If you are part of the support group helping someone who is addicted it is important to be empathetic and supportive. Remember that recovery will take time, and some people are going to require multiple treatment programs before finding one that works best for them.
Help for Family Members of Addicts
Some examples of support groups for family members include:
Nar-Anon: for family members of a narcotics addict.
Al-Anon>: for family members of an alcoholic.
Co-Dependents Anonymous: designed to help loved ones stop enabling and heal damaged relationships.
SMART Recovery Family & Friends: a science-based, secular alternative to Nar-Anon and Al-Anon.
Self-Care
Surviving a loved one's addiction can be taxing, which is why stress-management is vital.
Here are some different options that can help to relieve stress:
Yoga
Meditation
Exercise
Reading
Listening to music
Deep breathing
Guided imagery
Drawing or painting
This opioid epidemic is real and whether you are addicted yourself or a loved one trying to recover without professional help is very difficult. Seek out medical advice and break free from the chains of addiction.